Weather Outlook (05/11/2019)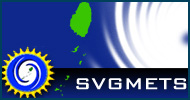 Tonight, a tropical wave will be affecting Saint Vincent and the Grenadines. Moderate to heavy showers and thunderstorm activity are forecast tonight into Wednesday.
Residents and motorists in areas prone to flash-flooding and landslides, and near rivers and streams should exercise caution.
In addition, gusty winds are likely near showers. An improvement is anticipated Wednesday night into Thursday morning, before unstable conditions associated with another tropical wave move across the islands, to affect Thursday night into Friday.
Generally, a fresh east north-easterly wind flow varying to east south-easterly (ENE-ESE) at 25km/h to 40km/h (with higher gust near showers) will be experienced tonight, becoming east north-east to east (ENE-E) from tomorrow.
Sea conditions will be moderate to rough in open water (1.5m-3.0m) for the next few days. A Small craft warning is in effect for above normal sea swells.
Haze intrusion is forecast to fluctuate within this forecast period, reducing visibility on occasions.