Weather Outlook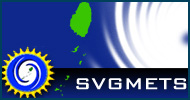 The Atlantic high pressure system will dominate the weather pattern across Saint Vincent and the Grenadines this afternoon, while a tropical wave inches closer to the island chain tonight.
 Model guidance is indicating a dry atmosphere up to Wednesday afternoon. After which, an increase in moisture due to the presence of a tropical wave will result in a few showers across Saint Vincent and the Grenadines.  Furthermore, on Thursday, as the night progresses, model data is suggesting that a deeper pool of moisture associated with an easterly wave will be approaching the region and the potential for some scattered showers could be expected across the entire island chain. Further monitoring will be done. 
East north- east breeze at 20km/h-40km/h is forecast for this afternoon into tonight, becoming East south-east at approximately 15km/h from Wednesday afternoon. Moderate breeze should return Thursday. Slight sea conditions (1.0-1.2m) this afternoon into tomorrow morning. By Wednesday afternoon, 0.6m on the west coast is likely while 1.2m continues on the east coast. Gradual deterioration is forecast for Thursday.
Occasional slight haze should continue across our islands, with possible clearing for good visibility late Thursday