Weather outlook (12- 11- 2018)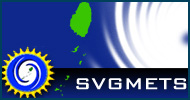 Synopsis:  A surface to low level trough will continue affecting the island
Forecast:  Partly cloudy to cloudy with some scattered showers and a chance of isolated thunderstorms mainly during the afternoon.

Weather outlook:
Another lower level trough is affecting the region, with moisture being pulled towards to north-east of the island chain where the trough is expected to deepen.  Showers are expected to move into the Lesser Antilles tonight and a possible tropical or subtropical cyclone could be moving towards the Greater Antilles late Tuesday/Wednesday.
At the southern section/near the Grenadine Islands and Grenada, a swirl in the lower levels developed around midday today... See image at 4:45 pm compliments RAMMB. Although the mid levels are relatively dry, some convective activity is persisting across our islands with periods of light rain, moderate to heavy showers. Residents and motorists in areas prone to flooding and land-slides; near rivers, streams and low-lying areas should be alert for flash flooding overnight. Few scattered showers are possible on Monday, but the developing low (north-east of island chain) should be pulling moisture away from our area. On Tuesday, the developing low could induce some instability across the island chain, with equatorial moisture crossing our islands. Showers and thunderstorm activity can be expected on Tuesday continuing into Wednesday, gradually decreasing as an Atlantic High Pressure System builds.  
Moderate to fresh (20 - 35km/h) breeze is across our area, with a reduction in speeds to gentle (10 - 20 km/h), now expected Monday afternoon veering to east south-easterly. Occasionally calm to light winds with variable direction are expected during Monday night. Moderate breeze on Tuesday should gradually increase to fresh by night-fall, and further to strong easterlies by Wednesday night.
A thin patch of dust could cause slight haze during Tuesday and Wednesday.
Mean Sea level Pressure readings should range between 1010mb and 1012mb across our area, rising on Wednesday to 1014mb.
Slight to moderate seas on the west coasts should peak near 1.5m; while on the east coasts seas should peak near 1.8m. Seas are increasing and by late Tuesday, moderate to rough seas can be expected; rising further to peak near 1.8m on west coasts and 3.0m on east coasts during Wednesday.
Notes:
Tropical wave along 29W and south of 09N. Scattered to numerous moderate convection is noted along and in the vicinity of the wave, enhanced by the proximity of the ITCZ.... about 1920 nmiles away
Tropical wave along 41W south of 10N. Scattered moderate convection is present 120 nm on either side of the wave axis. This activity is enhanced by the proximity of the ITCZ.... about 1200 nmiles away 
Tropical wave along 55W and south of 16N. Scattered moderate convection is noted north of 13N between 51W and 57W. Showers activity is increasing and became better organized today in association with tropical wave about 350 miles east of and approaching Lesser Antilles.  Environmental conditions could gradually become conducive for tropical or subtropical development by Tuesday. There is a high chance (70%) that a cyclone could form late Tuesday/Wednesday this week. The system is expected to move westward to west-northwestward for the next few days, passing near or north of the Leeward Islands, Puerto Rico, Hispaniola, and the southeastern Bahamas.… creating trough in vicinity of SVG today Sunday… and possibly inducing instability in vicinity of SVG during Tuesday into Wednesday