Weather Forecast (22-10-2018)
 Today's forecast:
Synopsis: A surface to mid level trough system is affecting the islands
Forecast: Fair to occasionally cloudy with some showers, increasing towards afternoon
Weather Advisory/Warning: A Flood Watch is in effect for SVG…flooding and land slippage still possible
This watch may be upgraded if flooding becomes imminent.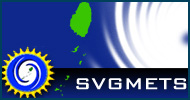 Outlook:
Unstable conditions with few trough systems are expected across the islands until mid-week. More showers are expected overnight as a weak trough in the low to mid levels, crosses the area with enhancement by an upper level trough dipping across the Eastern Caribbean. 
During Monday, an east south-easterly wind flow bringing equatorial moisture across our area could result in showers increasing towards the afternoon. A mid- level trough approaching late Monday could maintain shower activity from early Tuesday. Another mid level trough oriented north-south is expected late Wednesday. Meanwhile, favourable upper level conditions could occasionally enhance showers/thunderstorm activity. These unstable conditions should be lifting from our area during Thursday.
Expect moderate (20 - 30 km/h) breeze tonight, decreasing to gentle (10-20 km/h) late Monday. On Tuesday, south south-easterly wind flow is expected, becoming a light breeze by evening then increasing to gentle early Wednesday.
Slight to moderate seas ranging 0.5 m - 1.5 m on west coasts and 1.2 m – 1.8 m on the east coasts, gradually falling to slight 0.5 m -1.2 m by late Tuesday across SVG.
Residents and motorists in areas prone to flooding and land slippage, especially in mountainous areas, near rivers, streams and low lying areas that are easily flooded, should be prepared to take the necessary actions