Hazy and breezy conditions gradually change as a tropical wave crosses our area overnight.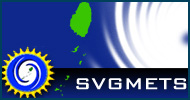 The wave is within an unfavourable area of moderate to strong vertical wind shear
and with extensive Saharan dry air and dust, which is hindering convection.
Occasional support in the upper levels may trigger few isolated thunderstorm activity.
Generally hazy and partly cloudy skies are expected to become cloudy with some scattered light to moderate showers overnight into Wednesday, with visibility being reduced significantly by haze on Wednesday.
Hazy conditions with less shower activity are expected by Thursday ahead of the vigorous tropical wave approaching the islands.
East-northeasterly slight to moderate (1.0m-2.0m) sea swells are expected across St. Vincent and the Grenadines (SVG) until early Friday.
The approach of a vigorous tropical wave/tropical depression could agitate seas to become moderate to rough (2.0-3.5m) on Friday.
Significant feature: An area of low pressure which was expected to merge and move north-east of the island chain, is showing signs of separation. Shower and thunderstorm activity associated with the elongated area of low pressure east of the Lesser Antilles remains disorganized. Currently, the cluster of convection closest to the island chain is expected to continue moving westward at 15 to 20 mph and crossing into the Caribbean Sea. There is a medium chance 40% for some slow development before it moves into the Caribbean Sea.
We are monitoring this area which could reach St. Vincent and the Grenadines by Friday as a vigorous tropical wave or possibly a tropical depression. Regardless of development, cloudy skies with moderate to heavy showers, periods of rain and isolated thunderstorms are expected early Friday until Friday night.
Residents and motorists should be on the alert as rainfall amounts of 4-5 inches (100mm-125mm), and winds reaching gale strength (25-35kts/29-40mphor 46-65 km/h) are possible across parts of SVG.
The next tropical wave expected to pass north of the island chain, could drag some moisture and instability across our area Saturday. Hopefully, the third area of convection also being monitored would take a west-northwestward track.
J. Mc Donald
Meteorological Services
Argyle International Airport
St. Vincent & the Grenadines
Phone/Fax: (784) 458-4477