LA SOUFRIÈRE BULLETIN #60 APRIL 13, 2021 10:00 A.M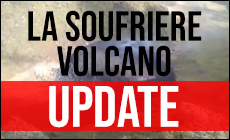 LA SOUFRIÈRE BULLETIN #60 APRIL 13, 2021 10:00 A.M   
Another explosive event occurred today at 6.30 AM, the 42nd anniversary of the 1979 eruption. This was described as being less energetic than previous events.
Seismic activity at La Soufrière, St Vincent continued the pattern established yesterday, with short bands of continuous seismic tremor interspersed with long-period earthquakes.
Following the latest band of tremor, at 1:30 am, the long-period earthquakes have steadily become more frequent. Audible venting was heard associated with some periods of tremor and long-period earthquake activity.
The volcano continues to erupt explosively and has now begun to generate pyroclastic density currents. Explosions and accompanying ashfall, of similar or larger magnitude, are likely to continue to occur over the next few days.
Alert level remains RED.
Eighty-seven shelters with more than 3,880 occupants are now activated.
Some 446 families are hosting over two thousand persons to date and registration with NEMO of persons in private sheltering is continuing.
The National Emergency Operations Center continues to be fully functional operating on a twenty-four hour, around the clock basis.