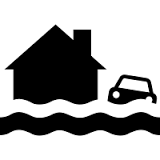 Flooding happens during heavy rains, when rivers overflow, when ocean waves come onshore, or when dams break. This is  one of the most common natural weather event s and can happen both on Saint Vincent and the Grenadines. Flooding may be only a few inches of water or it may cover a house to the rooftop.
Floods that happen very quickly are called  flash floods.  Stay as far away from flood water as you can. Moving flood water can be dangerous because it can knock you off your feet. And any type of flood water can be contaminated, meaning it can contain dangerous substances. The word "flood" comes from Old English and means "a flowing of water, river or sea.
Important Terms To Know:
Flood Watch or Flash flood Watch -- Flooding may happen soon. Stay tuned to the radio or television news for more information. If you hear a flash flood warning, talk to an adult immediately!
Flood Warning -- You may be asked to leave the area. A flood may be happening or will be very soon. Tell an adult if you hear a flood warning.
If you have to leave the area, remember to bring your Disaster Supply Kit and make arrangements for your pets.
Flash flood Warning  A  flash flood is happening. Get to high ground right away. Tell an adult!

Remember
NEVER EVER PLAY IN FLOOD WATER